Sony | Water proof | 1st Rank Earphone | 9.2/10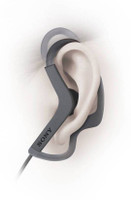 Product Description :-
Have you ever noticed the difference between working out in complete silence and when there's music playing out in the background? Now listen to the music of your choice while working out with these Sony Sports in-ear headphones.
Ergonomic Design
Whether you're running, playing squash or bench pressing, these headphones, with their adjustable loop hangers, will stay put in your ears . You can just clip them to your ears and get moving, without having to worry about them slipping off your ears on the way.
Listen to The Difference
Featuring a 13.5 mm neodymium driver unit, these headphones deliver pure, energised sound to keep you motivated until those final workout minutes. Thanks to the 104 dB/mW sensitivity and a frequency range of 17–22,000 Hz, you can hear all your favourite tracks loud and clear on these wired headphones.
Open Design
The back of the earcups of these wired headphones let the sounds freely flow in and out, creating more natural-sounding acoustics.
Waterproof
Don't let the overcast sky stop you from enjoying a good run with your headphones on. These wired headphones feature a water-resistant housing that prevents sweat or water from getting into them. As a result, they are perfect for your outdoorsy lifestyle.
1.2 m Cord
Enjoy more freedom of movement with the 1.2 m cord of these headphones. Now run, jump or just train harder, these headphones offer you more flexibility.